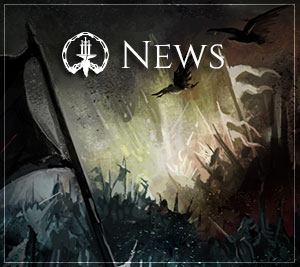 Viking Warrior Class Concept (The Drengr) and the Path System
Folks,
A long time ago, during a Kickstarter that seems so far, far away, I told our Backers and potential Backers that we would run not only a very transparent Kickstarter, but also a very transparent development process. Our Backers, as well as Camelot Unchained™ watchers, have seen us do just that. As we moved from Kickstarter to actual development, we also told our Backers that we would share some of our design/vision documents with them. Well, life sometimes intervenes, and we weren't able to share those documents right away. As both our BSC Daze and our Alpha were delayed, it made little sense to share the very early documents I talked about, since some of them were actually part of the BSC Daze.
As we have now moved closer to the opening of our Alpha, we have also begun catching up with some aspects of the game's design, such as creating the first official class concept document. We began thinking about how we were going to handle the open-ended ability crafting system that we discussed with our Backers. We knew we needed at least some structure, as some players prefer that, but we had to achieve a structure that allows players to identify with their characters, as well as be recognizable to other players. At the same time, we started work on the ability crafting system for our magic-wielding classes, which then formed the basis of the current Pre-Alpha Testing.
As I pondered some of the problems that would rise down the road for our classes, I started to think about the warrior class for the Vikings, and decided to use the term "Drengr" as a placeholder name for the class. FYI, the term Drengr in Old Norse means warrior (although the more modern interpretation is "lad"), but it really is a placeholder. I do expect the name to change.
Keeping all of these things in mind, that's when I came up with the idea of the Path System, a system that could allow players to make their characters and their abilities their way, and yet would not be incredibly difficult to understand. I won't go into a lot of detail as to what the Path System is here, since that is covered in the document itself. What is important to know is that the Path System is intended to keep players within the strong archetype system we promised (healers heal, warriors fight, etc.), but to also allow players a ton of leeway in how they spec out their toon(s).
For the first official discussion of a class (other than talking about the HelBound, of course), I thought that if we could make the systems I was considering work with a warrior archetype (as our Backers know, strong class-based archetypes are an important part of the vision for the game), then we'd be off to a good start. In thinking about a Viking Warrior for this game, I immediately thought of Thor, and of course his hammer Mjolnir. I wanted to give our warrior the opportunity to specialize in a way that emulated Viking gods and goddesses, as well as their personalities. After more research, I saw that the depth of folklore around these figures made them a wise choice. Using Thor, Odin, Sol, Freyr, and Forseti, the Viking warrior class could follow a 'path' to greatness. I wrote a document to pass around to the team, and we discussed whether it would fit, not only with the game's initial vision, but also with the game over the long term.
In essence, what you will read is a slightly modified internal design document I wrote, which describes both a Viking warrior class and an ability/talent/etc. spec system that would be part of the class. As you read this document, please remember that it was not originally written with an eye to public release. As such, it is far from perfect in grammar or sentence structure, and has very little narrative structure, art, and so on. It is full of ideas, concepts, and maybe some crazy stuff. So, please keep this in mind if you wonder why I haven't taken the time to give lots of examples for abilities, powers, Banes and Boons, and etc. This document is mean to be a reasonable expression of my thought process regarding the implementation of warrior class with an interesting specialization system.
Special thanks go out to all of our Internal Testers who helped us out by commenting on the Forums, offering suggestions, correcting typos, pushing for the FAQ section, etc. You folks came through beautifully, and I hope you enjoyed the process. Based on the way it all went, this won't be the last time we call on you. J
I hope you enjoy this document, and well, if you don't, you know where to find me on the Forums, Massively, etc., etc., etc. J We have stories going up on Massively, MMORPG, and KeenandGraev, so I expect I'll be lurking around a number of sites as well as the Forums.
As always, to all of our Backers, thank you for giving us the opportunity to share this document with you. To those who aren't our Backers and who are reading this document, I hope this gives you more insight into our thinking about not only this class, but about all the classes we will have in this game.
-Mark
Linkage to the document is here.