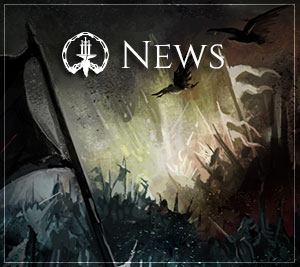 The Camelot Unchained Shop of Swag is now open!
Folks,
Ever since the Kickstarter began, we said that we would have some fun, game-focused swag (merchandise, stuff, etc.) for sale. Today I am pleased to announce that our Camelot Unchained™ swag shop has opened! Over the last year, we had been looking at/talking to potential partners, getting sample t-shirts, hoodies, etc. in preparation for the opening of the store. And after that, and after waiting till the game was far enough along, in our opinion, to justify selling swag, we now begin doing so. We began testing the store with our Internal Testers last week and after getting additional feedback, etc., the store is fully operational. I've attached our F.A.Q. to this message, but the tl;dr version is best summarized as:
We are proud to say we are partnering with Merchline to print, pick, pack, and ship our merchandise. They have a 365 return policy and they will, of course, pay the shipping as well. They are, like us, a customer focused company.
We currently have one t-shirt print, in 3 different t-shirt types, one male and female heavy hoodie, and two different posters. We want to start small, and see how things go with our partner before we put too many items in the store.
The store is currently in "pre-sale" mode which allows us to gauge the exact demand for the gear, and get the best price for the underlying items. Once this pre-sale is over (less than two weeks from now), pricing will go up as we will begin to print the items. To check it out, please go to http://camelotunchained.merchline.com/
To save our Backers some money, Merchline, which already has some of the lowest shipping prices you'll find outside Amazon, will "bundle" items to reduce shipping costs. We also are offering an additional discount on purchases of multiple goods.
To ease the additional costs borne by folks outside of the US due to things such as shipping, VAT, customs and the US dollar exchange rate, we are offering an additional discount to our non-US Backers. Please read the F.A.Q. for more information on this point.
Lastly, and most importantly, every dollar in profits that we receive from the sale of these items will go directly towards the Stretch Goals of Camelot Unchained, and nothing else.
There's a lot more in the F.A.Q. which is below my signoff.
We are excited by the opening of the store, and our partnership with Merchline. We didn't want to be in the fulfillment business (and you really don't want us doing that either), and they can fill that role admirably. So, I hope you like what you see in our store, it is only the beginning. And, of course, we have a discussion area on our Forums for all things Merchline related. I urge you to read the F.A.Q. too; there's a lot of really good information there.
I really do hope that you like what we are doing with Merchline, and understand how it can help us bring Camelot Unchained to our Backers faster, as our current Stretch Goal is to add more programmers to the team, and not more schedule-killing features. We could have gone the whole "buy more virtual stuff" route, but that is so not us. OTOH, t-shirts/hoodies with The Depths, well, that's kinda more our style. 🙂
And since an update from us wouldn't be complete without some fine art, here's a fun concept piece from Sandra.
As always, thanks for the support!
-Mark
—————————————–
SWAG Shop F.A.Q.
Is City State Entertainment™ operating this store itself?

We are partnered with Merchline (www.merchline.com) to not only run our store, but also to do our silk screening and other merchandise-related stuff.

Why aren't you operating the store? Wouldn't you make more money that way?

Yes, we might, but it would also require a lot more effort from us, extra staff, and, we're sure, additional problems as well. Our partner is a well-respected printer/vendor and they can operate a store much more efficiently than we can. They also have some very customer-friendly policies, including a 365 day money-back guarantee. Sound familiar?
At the end of the day, it is more important to us to have a great store, swag, and vendor experience than to take in every possible dollar we can.

Speaking of dollars, how will buying t-shirts and stuff help the game's development?

Every dollar in profits from the sale of swag will go directly to the development of this game, and nothing else. That's why we are doing it this way. Returns, staff, pick and pack, are not our problem or expense. We wanted the cleanest possible method to both sell swag and help meet the current and upcoming Stretch Goals for the game.

But, but, but, wouldn't it be better to just add some new tiers, or sell cosmetic items, blueprints, houses, etc.? That way you might earn even more money, right?

It's true that we could probably earn a higher profit on virtual items, but that's not what we want to do, nor do we think that is the best way to go for Camelot Unchained™ and our Backers. We said before, during, and after our Kickstarter that our game would not have a cash shop, nor be pay-to-win (or pay-to-advantage) in any way. By selling physical merchandise, we both stick to what we have said in the past and also give our Backers something physical to hold, wear, use, and look at, now and forever. Yes, it was tempting to come up with new things to buy in the game, but we don't want to, nor need to, go down that path today.

How's the quality of the items that you are selling?

We've been very clear with Merchline, and with our Backers, that we are only selling quality goods. All the t-shirts, and the hoodie, have had samples worn, washed, and worn again by our team. Mark has used the "Next Level" t-shirt as his workout shirt, and it has gone through more than 30 wash/dry cycles so far, and still held up as expected. And no matter what, if you don't like the quality of the item that you receive, just send it back to Merchline for a full refund (as long as you haven't washed/worn it yet). We won't sell low-quality items, period. It would have been easy to slap a simple logo on a shirt and say "Buy me!" but we don't operate that way. We ran through sample after sample to find the right material. We will continue to do that with every item we sell through Merchline. That's also why we don't have as much swag as we could have to sell. If it's not a great item, we won't sell it.

When we can expect to see more items on the store?

Late this year or early next year. We want to make sure that Merchline is the right partner for us before we add additional items. Yeah, we like them, they have been great to work with, and we think that they will be a great partner, but, as always, time will tell. If things go as well as we hope, then we will definitely add more items to the store such as long-sleeve and polo shirts, mugs, and other items.

I'm not in the United States, can I still buy these items?

Of course. The items can be shipped anywhere.

How are your shipping prices, especially internationally?

One of the reasons we went with Merchline was their promise/ability to keep the shipping prices as low as possible. From what we have seen, they have kept their promise. However, I urge our overseas Backers not to buy our posters at the present time. Unfortunately, the cost of shipping movie-poster size posters (24×36) is very expensive overseas. So, unless you really, really want a poster, I would urge our non-North American Backers to hold off on the posters. We are going to look for alternate ways to set up a system to get you your posters. We don't want you to get stuck paying what you currently have to pay to get it shipped overseas.

You're telling us overseas folks not to buy some of your items?

Our shirts/hoodies have really good shipping prices to most countries of our Backers. We have also taken other steps to help reduce the cost of getting Camelot Unchained swag, stuff that other games/developers/publishers don't do. But, things like large posters, which come in a very solid tube, are just expensive to ship.

What the heck is a pre-sale? Never heard of that before?

A pre-sale is the best way for us to minimize our costs on all the items. Normally, somebody like us would print a number of shirts and just put them up for sale on a store. Now, that's easy to do, but since we don't know the volume, we would probably either order way too many or too few. What we are doing now is putting these items up for sale for the next week to two weeks, the "pre-sale period," in order to gauge demand. Once that is done, the pre-sale will be removed, and Merchline will begin printing the items based on what was ordered. We will also add a small amount of items for inventory, and that's it, we're done with those items. This will allow us to satisfy all of our Backers' needs, get the lowest price (higher volume = lower prices for us), and also keep a small inventory for those that miss the sale. It's a win-win for both our Backers and for us.

Okay MJ, what else have you guys done to help us out?

We promised all our Backers that we would never treat you as "walking wallets" and try to make every dollar we could from you. We recognize that many of our Backers will have additional expenses for buying our swag, including VAT, customs, shipping costs, and, right now, a strong US dollar. It would have been easy to do nothing about that and just say "too bad!" like the vast majority of companies do, but we won't operate that way. So, here's what we have done.

All items that you buy during the pre-sale are discounted from the regular price. After that, the price goes up.
All items that you buy in the store/order, will be bundled together for shipping. Thus, if you buy two t-shirts, you won't have to pay for two separate shipping prices. This applies to all the goods that are for sale. Merchline's prices for shipping are really good and this makes them even better.
We've added an additional discount based on bundles. So, if you buy two items, you get an additional discount. If you buy 3 or 4 items, your discount increases further.
We've added a special coupon code for all of our overseas Backers that will give you an additional discount on the cost of the items. This is our way of saying thanks to our overseas Backers who decide to buy our swag. You are helping us by doing so, and we want to thank you by offering you some additional savings.
FYI, for our overseas Backers, make sure that you check on how your country works in terms of customs/duties. If you buy below certain thresholds, you will not be subject to additional customs fees (customs is not value-added tax (VAT), of course).
Okay, sounds good. What do I do now?

Go to http://camelotunchained.merchline.com/ and you can see what we are currently offering. Before you buy anything, however, please make sure that you create an account, fill in your address, on their site. They WILL NOT store your payment information, but if you have an account, you will receive coupons and other stuff from us and Merchline that can save you money going forward.
Once you do that, you can browse the store and hopefully decide to buy something. But if not, we thank you anyway!
Is there anything else I need to know?

Yes: If you are outside the United States, and you want to get the additional discount, you must not go to the store anonymously. The store needs to see where you are connecting from in order to offer you the correct coupon. FYI, the name of each coupon is generally the country that you are from. You will see a place to enter the coupon code before you give your payment information. If you are from overseas, you should see a banner on all the pages of the store. Also, please make sure that you enter your shipping address in the appropriate place on the form (and it still would be better if you created an account, as per above).

I'm from Scotland (or elsewhere), and I don't see the banner. What's going on? If that happens, make sure you are not coming in anonymously, via proxy, didn't enter the correct shipping address, etc. We did have people report this issue during IT testing but, so far, all of those times it was a problem on the Backers' side (once Merchline got the tech working properly). So, please double and triple check. Now, if you do have this problem, please do two things:
Don't buy anything yet.
Go to our Forums and report the problem. It is possible that there is a problem with the coupon code tech, that your country is not registered via Merchline, or that it is a problem with your connection. We want to make sure that every overseas Backer gets the coupon, so give us and Merchline a chance to figure it out.
Will any of the other discounts require special geo-tagging, like the overseas coupon code? No. All the other discounts are available to all of our Backers, regardless of shipping destination. Only the additional coupon for overseas Backers requires the geo-tagging.
When will these items be shipping? Right now, Merchline is promising shipment in time for Christmas delivery (depending on country). They can't, of course, guarantee that a shipment won't get held up by a country's customs agents, but the plan is to get everything printed, picked, packed, and shipped, in time.
What if I have problems with my order? If it is a customer support issue (never received your goods, billing issues, etc.) that is between you and Merchline. We DO NOT see your credit card, and we are not involved in the processing of any of the payments. However, we want to know too, so let us know on the Forums how they are doing. So far, they have been awesome, but we want to know if that does or doesn't continue. Again, the purchase is between you and them, but if they don't do a great job, we'll find another partner.