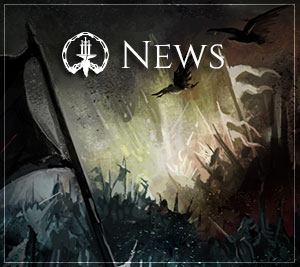 Press Release – March 11th, 2015
March 11, 2015 – City State Entertainment is pleased to announce that the Alpha One testing stage for its eagerly awaited Tri-Realm™ MMORPG Camelot Unchained opened on March 4 th and has been in full swing ever since. C.U.B.E. (Camelot Unchained Building Environment), the game's unique standalone building module, is a core element in this phase. It allows participants to exercise their creativity to design and erect a huge range of structures, even when the test server is not running.
"The entire team is very excited about starting this test," stated City State President Mark Jacobs. "Our development plan was to start by building a solid foundation of technology. Having done so, we're now ready to increase our focus on gameplay and the three Cs, combat, crafting and C.U.B.E."
C.U.B.E. is a standalone module that offers players unprecedented flexibility. Using a wide and still growing selection of block types, textures, rotations, etc., they can build a virtually unlimited variety of personal domiciles, from humble huts to stately manors, as well as shops, castles, walls, other defenses and more. Available at all times, C.U.B.E. is extremely user-friendly and fun. As a result, the testers have already spent thousands of hours designing and constructing a vast assortment of structures.
"We're also tremendously pleased that since we are an independent studio, our alpha can be old-school, but with modern twists such as C.U.B.E.," continued Jacobs. "This means that instead of waiting until Camelot Unchained's design is almost complete, we can involve more than 8,000 of our backers early enough to help us shape the game we're making."
Camelot Unchained's client-server technology has already demonstrated that it will be exceptionally robust. The test server recently accommodated nearly 1,100 players and bots in a small battleground-sized space without noticeable server lag, and the up time to date has been a rock solid 100%.  In addition, the team is building a proprietary rendering engine and employing a server-side version of Nvidia's PhysX system that will allow the game to have more accurate physics than other MMORPGs.
"When Mark asked me whether we could make the kind of MMORPG we both wanted to make, I said we'd need to move the boundaries of both rendering and networking technology for that to happen," said CSE co-founder Andrew Meggs. "Building this is a chance to do some truly exciting work, and our Backers have given us the time and funding to do just that. The response we have gotten so far has made all the work that the engineering team and I have done very gratifying."
About Camelot Unchained
Camelot Unchained is a crowd-funded massively multiplayer online role-playing game (MMORPG) set in a newly re-imagined version of the Arthurian/ pan-European mythos. The latest endeavor of online industry pioneer Mark Jacobs, it is a highly focused adaptation of the tripartite conflict for which he is widely recognized. The project's core concept encompasses three primary elements, Tri-Realm RvR, housing and a true player-owned economy built upon a rich crafting system.
Further information about Camelot Unchained is available at www.camelotunchained.com where pledges are still being accepted.
About City State Entertainment
City State Entertainment is an independent video game development studio founded in March 2011, in Fairfax, Virginia, by online gaming pioneer Mark Jacobs and "top gun" programmer Andrew Meggs. Jacobs previously founded Mythic Entertainment, creator of two of the highest rated MMORPGs to date, Dark Age of Camelot® and Warhammer Online: Age of Reckoning®, as well as over 15 other games/expansion packs. In October 2012, they released their first game, March on Oz™, for Apple's iPad.
The studio embodies an "open office" collaborative environment wherein all team members contribute to the design and the development process. The staff is a very diverse bunch that also includes lots of four-legged mammals, two bearded dragons and other assorted critters. For more information about City State Entertainment, please visit http://www.CityStateEntertainment.com.
City State Entertainment, Camelot Unchained, March on Oz and Tri-Realm are trademarks of City State Entertainment LLC. All other trademarks are the property of their respective owners.