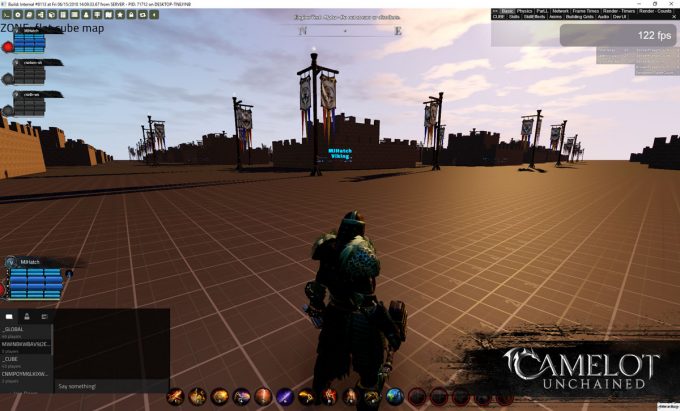 On a clear day you can see… a lot of buildings! – Friday June 15 2018
Folks,
TOP TWENTY! We broke twenty items this week in our Top Tenish list. Also, we've been seeing a lot of new Backers joining us in recent weeks, so a big WELCOME to you all. For any of you unfamiliar with our weekly updates, we break down the week's work into highlights. This started out as our Top Ten, then as the team grew, became the Top Tenish, as we regularly had more than ten items that were worth mentioning. As we've gotten closer to our Beta 1 Day 1 date of July 4th, the number of weekly highlights has continued to creep up due to the team's focus and hard work!
As mentioned in our previous weekly updates, we remain on track for our July 4th Beta 1 date, but just barely. We still have a lot of testing ahead of us to be truly ready. We want to come into that day strong, so please keep an eye out for our testing notifications.
We're going to include this information one last time to make sure all our Backers are aware of our privacy policy changes:
If you missed our livestream with Mark and our lawyer Jim covering how GDPR affects CSE and our Backers, you can find that HERE. If you haven't updated and accepted/declined our new policy, please log into your account HERE. (https://api.citystateentertainment.com/Account/Login ). You will be presented with the information immediately upon your first login if you have not accepted these terms. After that, you can still review or change your acceptance of the policy HERE (https://api.citystateentertainment.com/Account/PrivacyUpdate ).
As MJ always says, we have to do things the right way, even if other folks don't. And that will never change.
If you have any questions, you can email us at:
privacy@citystateentertainment.com
Let's move on to the epic twenty items in our Top Tenish!
Top Tenish:
Road to Beta: As you all know, we had set our original feature lock date as June 12, which was this Tuesday. The good news is, many of our core Beta features have landed, things like skill improvements, scenarios, and our ability to have a complete game loop. However, some work just isn't where we want it to be, and so we are moving forward with a bit of continued feature work to deliver the experience we want for Beta 1 Day 1. We are still hopeful for the 4th of July! We just need to double down and pull the last couple things across the finish line.

Testing: This week, Brian has been busy organizing and managing all of our internal feature testing, as well as preparing for some additional tests, soon to come. Big thanks to those Backers who joined us earlier in the week during our multi-island scenario tests!

Tech and Art – Building Materials and Performance Testing: Rob is currently testing building performance with 3000 plots on an island! This testing will help us determine how big our building islands should be for Beta 1 day 1. Michelle helped him with our current material list, choosing the ones that would be best for Builders of each Realm. Rob's next step is to test with these 45 materials on the buildings, at a similar scale. We have a screenshot in today's update that shows some of the work he has been doing.

WIP – Building and Plots: This is an exciting feature that Matt, Rob, and Andrew have been working hard to deliver to you. This week, we have only a few pieces left to finish off and integrate for testing. Excitingly, a feature we didn't expect emerged from our work this week: the ability to allow player to claim an arbitrary piece of land as a building plot was among what landed, which is super exciting for us. We had planned on just having set locations for plots, but now players can do it in a more natural-feeling way.

WIP – Design – Crafting – Mark got to spend more time than usual on crafting this week, so lots of discussions, recipes, and other crafting-related stuff got done. Have we finished our work on it for Beta 1 Day 1? No. But it's getting close.

Builders Brigade Planning: In anticipation of the opening of Beta and the completion of our building- and plot-related tech goals, we've specced out areas on the home islands for Backer-created buildings, as well as construction guidelines for specific buildings like the bank and tavern, which will see more functionality added later. We can't wait to see what you can create! As is typical of us, we want B1D1 to stress the systems we have in place, so expect lots of buildings, more crowded together than is our plan for the game at launch.

WIP – Server Stress Testing: In preparation for Beta, Colin has been load testing our servers to make sure that lots of players can log in and transfer simultaneously on and between zones. While we fully expect something to go wrong, we're doing our best to prepare ahead of time!

Tech – Progression: One of the things that sets Camelot Unchained apart from other MMOs is our progression system. This week, Christina went the extra mile to land our progression server, so players will be alerted of their progress on an interval, which will vary to support testing. Players will get a report showing their stats and skills that they use during their play sessions.

WIP – Design – New Islands and Abilities: This week, Ben created a first pass of a contested island where we'll have some fun, unadulterated Realm-on-Realm violence come Beta 1! He also created a new builder island, though we may change the size for testing, depending on how many plots we can support in a zone. In between all that, Ben continues to support Mike, Scott, and dB in implementing the new skills as assets come in.

Tech – Warbands:  JB has wrapped up most of the Warbands work, and it's currently deployed on Hatchery. Players receive alerts when invited and can left click on character portraits to select group or Warband members, as well as right-click portraits for a context menu to trade, invite, or kick.

Tech – Sound Asset Builder: Dave put his work into review earlier this week, including some quality-of-life improvements for dB. The changes won't be immediately visible to Backers, but will give developers better tools for debugging the game, and more info to improve sound performance.

Tech – Multi-Zone server: We have collected all the island zones together in the world, and you can now travel between all the areas of play. This brings in the portal work from last week, and delivers part of the full game loop experience.

Server Support and Scalability: With Beta 1 looming, Colin, Tim, and Marc have been busy ensuring that our servers and infrastructure are ready to deliver. This includes updating and creating new tools, doing performance and bot testing, and checking our logging, patching, and transitioning systems.

WIP – Art – Tavern and Bank Props: This week, Dionne audited and imported over 29 new prop assets to make the home island tavern and bank buildings. She's also working on new market stalls to add to the new dock areas.

Tech – Trade UI: AJ and Christina have delivered the updated trade window UI, improving the player trade experience. This secure trading should be up for testing very soon.

WIP – Environment Art – Home Island Template: The home islands for Beta 1 Day 1 are a stepping stone to what we want to do for launch. Ultimately, we want players to build out their own home islands' towns, docks, etc. For now, and this week, Tyler focused on building out the new, more established dock area, including props, and began moving inland, working on the road and various assets that will truly make the island feel established. This is a joint effort with Michelle, Ben, and Dionne.

WIP – Art – Social Interface Styling: This week, James worked on the UI styling for this interface which will be added during Beta. He's also starting work on a whole host of new icons for character creation based off the updated character renders, and soon, on material icons for crafting!

WIP – Art – VFX and SFX: Mike and dB continued their trek through the new special abilities this week. Mike competed a rough pass on the Stonehealer and Empath's VFX, while dB focused on the Black Knight, as well as SFX for the scenario UI and capture points.

WIP – Art – Animation: Scott and Sandra are close to wrapping up our Beta 1 goals for new class-specific animations, which is also better-looking stylistically than our previous iteration. Scott wrapped up the Empath's animations, and has quickly worked through several of the movement animations for the Stonehealer. Sandra finished the Physician's basic cast earlier in the week, and is currently working through the special ability animation.

WIP – Updated Character Creation Portraits: Joe finished all the race and class pose variations, which are now in Jon's hands to render out. We're now using the extra time to hit our "if we have time" goal, and update some of the race/gender select renders. Post Beta 1, we'll update our character creation to use in-game models and animations.
Well, as I mentioned above, that's a lot of work there! I'm very, very, proud of this team for all the hard work, particularly over the past weeks. We still have several unknowns ahead of us that I'm sure will become clear in upcoming tests, but we'll continue to tackle them head on! Let's move into art for the week.
First up, we have a static image of some of the work Sandra completed on the Physician's basic cast. We still have some massaging we want to do with the timing based against the other healer's basic casts. Once we get that a little more ironed out, we'll get a video link in here.

The Arthurian Physician class is part mad scientist, using potions and vials as his main means of healing. For these improved animations, we created a new belt to hold all his accoutrements. We also used some tech Andrew wrote that allows us to to spawn items in hand: in this case, bottles. For Beta 1 Day 1, we're focused on getting in one basic cast for each healer archetype, as well as one special ability with less timing restrictions in for each class. This allows us to put more focus on the look and feel, as well as the animation tech, before we go wide creating hundreds of new animations which we'd have to redo if we got the first steps wrong.
Just so you know, our plan isn't to have you Physician players running around nude, only in your special Physician's belt! Wasn't there a relevant Steve Martin line I could add here? I'm sure Mark would know.
Next up, we've got some new props Dionne has been working on this week for the taverns and banks. These items are mostly pulled from game asset stores, with some auditing and new assets created in-house. As a small studio it's important for us to use our time wisely, and it just wouldn't make sense to waste Dionne's talents making very basic assets like tables and chairs. Once we get into the Realm-specific furniture and props, we'll create new assets. For now, this gets us some quick assets we can use in testing the new BPO (Building Placed Objects) system Matt has been working on!

It's been a busy week for Michelle, as she has helped work on multiple items this week, one of which was getting back to those tavern and bank signs so Jon can model them!

Have you got a favorite in here? I'm in love with the dragon ones, because dragons!
Next, we have some new materials for the large dock asset on the home islands. Once I (Tyler) get this more propped out next week, I'll get some in-game images for the update. Michelle wanted the home island dock to have different levels not only in its layout, but also in the materials used. The center dock uses higher-quality materials, so we went with materials that were smoother, cleaner, and look like they were probably put together by a better mason than last week's materials.

Below we have a WIP of James' styling pass on the social interactions window, whose functionality will be added during Beta.

The next image truly represents a group effort. It all starts with armor concepts from Michelle and Sandra long ago. Next, Jon does the modeling and materials of characters, Joe does the weighting and import with Scott's help, Sandra does the poses, then it comes back to Jon to clean up and render, and then over to Michelle to clean up and integrate into the background. And that's not actually the end, as they then go to James to audit size and position for character creation, and finally AJ to put into character creation on the patcher! All of that in this one image. Who said making a game was hard?!

Per item number four in our Top Tenish, Rob has been diligently testing our buildings and plots. Here's a couple of shots from that impressive test! First in the trenches with our Viking Mjölnir.

Second shot is up high, looking over the plots.

Pretty cool, huh? This is us trying to stress the system to see not only what we can improve, but to determine our builder island size at the start of Beta.
That wraps things up for the week, minus a couple of thank-yous that are due first to Poxer for this awesome "hat" he sent Max. Check out this morning's stream with Max, our now resident horny lore keeper, for the full unboxing.

Thanks are due as well, to Paladin Brewer, who sent some really tasty individually-wrapped gourmet cookies to the Seattle office.

Aaannd now we're done! Big update this week, with a lot of work getting done and condensed down to an awesome twenty items! We're looking forward to the next several weeks, which will certainly be exciting as we wrap up our Beta 1 Day 1 goals. Have a great weekend everyone, and many thanks for your patience, patronage, and enthusiasm.
-t
P.S. Again, if you haven't accepted/declined our new Privacy Policy, please log into your account HERE. (https://api.citystateentertainment.com/Account/Login ).