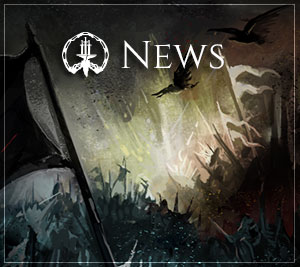 Mages Make Memorable Magical March – Friday, February 8th, 2019
Folks,

Things are moving along nicely on a whole bunch of fronts this week, and I definitely want to call out a few items in particular! First off, we've made a lot of progress supporting our next upcoming class: mages! Check out the Top Tenish below for more details!

Additionally, in terms of siege, we've made performance improvements to buildings and rubble and added in new trebuchet models with FX improvements. Late today, Andrew also finished off improvements affecting our character rendering and animation that brings with it a framerate boost of up to 20%, depending on your hardware! As you can see, it's been a great week in terms of progress.

We are planning to have a test this weekend, but with impending snow expected in Seattle (where the people are who will run the test!) we have to hope the power stays on and that our plans don't get disrupted!

When:
Saturday, February 9th, 2019

Countdown Timer HERE – https://www.timeanddate.com/countdown/generic?iso=20190209T12&p0=263&font=cursive&csz=1

Duration: 3 hours: 12pm – 3pm EST / 9am – 12pm PST / 6pm – 9pm CET (Get localization)

Where:
NuadaPrep

Who: IT/Alpha/Beta 1/Beta 2

If you missed today's livestream update and Q&A, you can find that HERE.

For the rest of the week's highlights, let's take a look at our Top Tenish list:

Tech – Rendering/Animation: Andrew delivered a set of character rendering/animation improvements that boost framerates in scenes with a large number of characters by up to 20% (depending on PC configuration). This was primarily done to support adding large numbers of attachment points to characters for spell effects, but it turned out to have a big impact on existing characters, even before adding those!
Tech – Rubble: Colin has made some changes to how rubble and buildings are generated. He committed that work this week, and it is currently in testing. This should improve performance and reduce some of the "bounciness" with rubble.
Tech/Design – Improved Ability System – Mage Abilities: Anthony has finished the core abilities for mages in the improved ability system. They don't have all their fanciest skill parts yet, but they can build abilities from different runes and shapes.
Tech – Improved Ability System – Status-Stacking Tech: Christina has added modifications to status stacking. This allows for a modifier (like a trait) to allow a status (like a debuff) to stack more times than the standard ability.
Siege- Tech/Design: We have removed the ability to tab-target players, as that was not how we intended trebuchets to work. They can now only be fired using manual aim mode. We've also updated the models with the Realm-specific versions, and improved the existing VFX.
WIP – Tech – BPOs (Building Placed Objects): Matt has made it so BPOs can now be selected after they have already been placed. He is currently working on the ability to attach them to walls and ceilings. He is working with the artists as well, so they can author the art for where it needs to be placed, removing engineering intervention as we make new assets or change existing ones.
WIP – Heavy Fighter- Tech/Design: To help deliver on the classes faster, Wylie started to implement the Heavy Fighter's skills in the improved ability system.
WIP – Art – Mage Effects: dB and Mike C. have been busy working on the mage ability SFX and VFX, focusing on the initial pre-built abilities available before we have the ability builder.
WIP – Tech UI – Mages: We've begun hooking up mage classes to the character creator in the patcher. They don't do anything yet, but it is one of the first steps to getting them into the game.
Art – Mage Animations: Scott has completed the first shared set of mage animations we'll use for testing. This week, he completed the right-hand animations for wands and scepters.
WIP – Art – Mage Weapons: Jon and Dionne completed the wands for the Arthurian Flame Warden and scepters for the TDD Druid. Next up, they'll begin work on the Viking Wave Weaver's gloves.
WIP – Art – Wave Weaver Glove Concepts: Speaking of which, Michelle finished up a first pass on these items for review. Once approved (next week), we'll pass these off for modeling and importation into the game!
WIP – Design – Siege Scenarios: Ben has begun work on a new map layout for future siege scenarios. It's very different from our current test map!
Patcher bug fixed- UI: AJ fixed the annoying bug that would cause the patcher to go black and force you to restart it in order to see anything.
Art – Sapper Bomb: Dionne helped Tyler out this week by finishing up the non-holiday-themed Sapper bomb boxes that players gather from.
Art – Characters 2.0: Better-looking and more performant characters!

Auditing: Tyler has been auditing all the new work this week, finding bugs or assigning them out to artists. We're hoping to get these changes merged into Hatchery soon, whereupon we'll finish up the polish on the assets.
Valkyries: We've completed the first pass modeling, weighting, and import of the new nude and armor assets.

Animation Polish: Scott and Sandra continued their polish pass on all the animations.
For art this week, we start off with new weapons for our upcoming mage classes, courtesy of Dionne and Jon. First off, wands will be used by our Arthurian Flame Warden class. The first image is of the high poly sculpt, and the second is the low poly model with materials applied.

Scepters will be used by the TDD Druid classes. As above, the high poly sculpt is first, followed by the low poly model with materials applied.

Of course, we'll need animations for the mages who are holding these weapons, which Scott has been wrapping up this week! This is only a static image–you'll have to play a mage to see these guys in action!

Later, we'll begin creating the Wave Weaver's gauntlets. Here we have some concepts from Michelle.

We've got a lot of cool things cooking right now: big siege battles, improved performance, improved ability system, new upcoming classes, and better-looking characters! Once again, thank you Backers for your patience and support on this journey. We're all working so very hard to bring the game to you.
Have a great weekend all, and CU next week!
-t