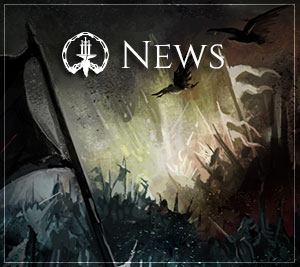 Evening Update – Thursday, February 26th, 2015
Folks,
The clock is still ticking and we're still moving closer to an Alpha launch. Fortunately, last night's storm was nothing more than a slight inconvenience and everybody is still here now, burning the Chipotle oil as the day has turned into night. Thus, it has been a great day here and we're going to check off another eight items from the P.A.T. #4 Checklist and add one new one.
As to the changes to our P.A.T. #4 Checklist, here they are.
Items checked off:
1. C.U.B.E. – Integrate UI art.
2. Minimap – Integrate UI art.
3. Update the French Camelot Unchained website to the current English version.
4. C.U.B.E. – System will generate thumbnails automatically of blocks for use in the UI.
5. C.U.B.E. – Art pass on building UI.
6. First pass – High and low poly bow weapon model.
7. Solve inconsistencies mixing and matching newly made armor parts.
8. C.U.B.E. – First pass – Allow buildings to be segmented to improve performance.
To Add:
1. First pass E.U.L.A.
Closer and closer and…
And since we are getting so close, here's the 2nd teaser image from the game's Ability Crafting System that we talked about during the B.S.C. Daze.


Well, that's it for now. Back to work I go. And Alpha folks, don't forget, you can head over to our Forums and get a look at some preview documents. And for the rest of our Backers, you will also be able to see them as soon as Alpha begins!
-Mark