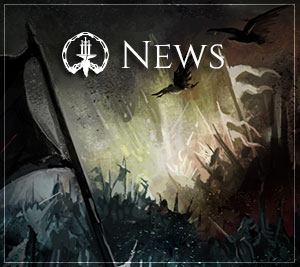 Evening Update – Friday, September 18th, 2015
Folks,
Happy Friday, all! It's been a fantastic week here at City State Entertainment, and I certainly want to share the highlights with you folks before we head out for the weekend.
First, the biggest news of the week is that we nailed our "Programmers, where art thou programmers?" Stretch Goal. As a matter of fact, we nailed the landing like Nadia Comăneci in 1976! In our livestream here (https://www.youtube.com/watch?v=_pAOvtISdzo), we announced that the two senior programmers (the target of that Stretch Goal) had landed at CSE. They are Marc Hernandez and George Davison. Marc is a senior network/server engineer, who worked at Kixeye, LucasArts, Carbine, Insomniac, and Oddworld Inhabitants. Among the games he has worked on are two Oddworld titles, Resistance, Wildstar, and Star Wars: First Assault. George is a senior graphics engineer with an equally impressive resume. He has worked at Runic Games, Bungie, Warner Bros, Paradigm, and others. His list of titles includes such major titles as Hob, Destiny, and Middle Earth: Shadow of Mordor.
I cannot stress enough how important the additions of Marc and George are to the team. We have gone from having 8 programmers to 10 programmers in a single week. And not just programmers, but senior (10+ years) programmers. So, not only is this a 25% increase in our programming team, but, even more importantly, we've added the right folks. They have worked on not only our kind of games, but have dealt with some of the same issues we have dealt/are dealing/will deal with, going forward. And, as anybody who has worked as/with programmers can attest, one of the advantages of having senior programmers is that they have already made (and hopefully have learned from) mistakes in the past, that they shouldn't repeat again. So, we are very excited to have them on board, and both have them have already made contributions to the codebase.
One other thing to keep in mind: while both of these positions were listed as remote jobs, Marc has already moved here, and we expect George to do the same next year. As they said in the livestream, the opportunity we offered them, based on our team and our code, was more than intriguing enough to have them join us in beautiful, downtown Fairfax, Va.
The last bit I want to add in regards to Marc and George is that we couldn't have done this without the help of our Backers. While Stretch Goals in crowd-funded MMORPGs can sometimes lead to bad things such as delays, this Stretch Goal had the exact opposite effect on the game/studio. Thanks to your help and support, we have landed two A-List coders, who will have a big impact on our game and studio. This is exactly how Kickstarter can and should work, when in the hands of a studio whose focus is using your donations and our own funding to create the game you told us you wanted us to create. So, for always and forever, thank you to our Backers for that!
In other studio news, tonight's testing will be an IT only test. The latest version of the build has a bunch of new stuff in it, and as a result, it is a little less stable than our usual Alpha builds. However, because it does have some very important bits in it, we really need you IT folks to jump in and let us know how it goes.In terms of some of the major additions (we do have a lot more but these are two of the key ones), here are a couple:
The first pass of our injury/wound system is in!
Health and Blood pools are now separate.
Currently your health is part of your torso.
If you run out of health in your torso, you will take a trauma and a wound, and your torso health will refill.
The trauma lasts a short period of time, and does some bleeding damage; this is taken from your blood pool.
If a healer overheals you enough, the trauma will be removed before it expires.
The wound lasts until you die, and slows your movement, attack speed, and cooldown recovery.
If you get 5 torso wounds, you will die.
If you run out of blood, you will die.
Coming soon

Healers will be able to heal individual wounds.
You will have more body parts than just your torso.
2) Improved rendering performance (particularly when there are a lot of objects on the screen).
We have a level of detail (LoD) system based on prioritization. Higher prioritized objects in the client will have a higher level of detail.
New texture array system further improves the rendering system.
Because of these changes, we want to test this build with our IT folks first. So, no Alpha/FNF tests this weekend, only IT. This way, we can confirm that this Alpha build doesn't bring about the end of the world, or something like that. J There's a lot more stuff in the build, of course, but we wanted to call out some of the highlights for our IT folks to look at this weekend. Our major known issue with this build is that sometimes it happily utilizes all of your system's memory. Because of that, and a couple of other problems, it's safer to not have the tests this weekend. Once we lock down the memory issue, we'll have an Alpha/IT test early next week. Sorry about the last minute notice folks, we were hoping to fix the key issues before the end of the day, but we could not and we are still working on them. OTOH, we did get a lot of new code/improvements into the build, and I'm sure we'll track this down quickly next week.
In other news, we are almost ready for the first class presentation next week. As per our other updates and Forum posts, this will be the first in a series of presentations regarding the classes. We are going to have a little fun with the presentations, and well, here's another hint as to how they will be presented (we already had a giant hint in the Dragon Con video).
We hope that you enjoy the presentations, especially the first one, which should be livestreamed on Wednesday. FYI, because next week is a short week for me (heading out for NH on Thursday), there is a slight chance we won't be able to present it next week. Now, I don't think that we will miss the date, but since we want to livestream the reveal, if something goes wrong, people get sick, well, we would delay it till the week after next. Here's yet another hint of what you can expect next week.
For those who are interested in our swag, we should have the final pre-production samples for the t-shirt and the hoodie here next week from the printer.
In other team-growing news, we added a new member to the team this week, as our sound engineer/composer/DDR star, dB and his wife Megan, brought a new life into the world. Well, Megan brought the new life in, dB was there DDRing and, I'm sure, welcoming their new bundle of joy in with an appropriate musical score. For our sake, we hope it's not the Imperial March from Star Wars.  And, as always, Sandra made a special duck for them.
Additionally, we realized that we never showed the duck that Sandra had made to commemorate the birth of a new son to our hiring/HR/ninja Anna and her husband Enes. So, here's Sandra's duck. The combination of Anna's mad ninja skills and Enes's devotion to country/service could be an awesome one.
So, congratulations to both of our new (ish) parents. We have another baby OTW as well. Update when it happens.
And that wraps it up from us here at CSE. It was a heck of a good week, and I hope that all of our Backers are as excited as we are. While it would have been a heck of a lot easier to focus on the "bright and shiny stuff" and/or items designed to bring in additional donations, we have always taken the other, more difficult, path. On days like today, it is our path that shines so very brightly… and for good and true reasons!
Enjoy your weekend, everybody!
-Mark