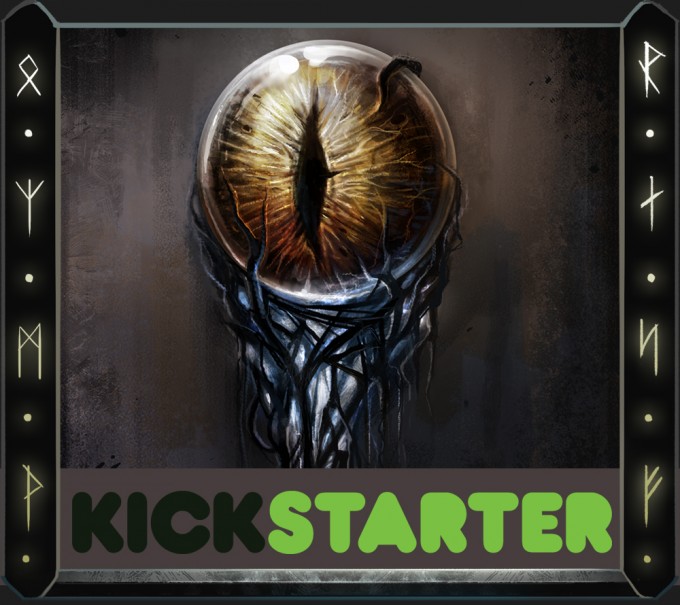 Afternoon Update – Friday, March 28th, 2014
Folks,
Happy Friday to you all! It's been a pretty good week here at CSE. Lots of progress on the all aspects of the game and a couple of new hires will be joining the team over the next 3 weeks. As to the latter, one is indeed a programmer (Rah Rah Sis Boom Bah!). We hope to have another hire to talk about in the coming weeks as well so our team is slowly filling out. We are also getting ready to commit to a less-than-traumatic move to our new digs right across the hallway here. 🙂 We'll probably Live Stream the whole thing just for giggles when the move occurs later this spring. The space is large enough for the projected size of the team and, like our current space, is an "office-free" office.
For today's update we have some new artwork to show off. First up are a couple of nice, shiny concept shots for our Helbound from Michelle. In the first one, he is swinging their signature weapon.
Next, here is another concept but with our Helbound summoning his own special brand of magic.
Next, here is link to our first cut animation test for a Helbound. Neither the model nor the animation cycles are final yet of course. In keeping with our intent to always show you folks truly representative models and not ridiculously high-poly count models that won't work for most gamers, this Helbound represents a pretty good approximation of how a Helbound could look in the game at launch. The link to the YouTube video can be found here.
To end today's show and tell I'm happy to present a nice bit of art that Sandra has cooked up that serves as both a teaser for the Giant race of the Tuatha Dé Danann  as well as for the next Becoming™ story.
As always, I hope you enjoyed this update.
Have a great weekend all!
-Mark
Update: Hot off the CSE's press, we've gotten Stage 2 of our "CSE Process to Ensure Proper Builds" so that we now have a automagiced, singing panda that alerts us when somebody breaks a build. He can sing a variety of songs that help reinforce the message of ensuring proper builds. This song, like the others on file so far, is guaranteed to inflict pain on he/she who broke the build and it was recorded by none other than Andrew Meggs. Keep in mind that, in all fairness to him, he was trying to sing as badly as possible. And as bad as that sounds, he still isn't as bad as I am on my best day! So, with all due apologies to our Canadian brethren, here is one of the aforementioned songs.